ARE YOU STRUGGLING WITH THE LOSS OF A JOB OR WAGES BECAUSE OF COVID?
HAVE YOU LOST YOUR HOME AND DON'T KNOW WHERE TO TURN?
HAS LIFE JUST DEALT YOU A BLOW YOU CAN' HANDLE?
YOU CAN OVERCOME THESE THINGS! YOU CAN RECOVER. YOU CAN GET BACK TO A PLACE OF HAPPINESS. AND I WILL SHOW YOU HOW.
Subscribe to our newsletter and up to the moment insights and receive a

FREE

copy of my eBook, "7 Keys to Living Rich."
I don't need to tell you times are tough. Research has shown that most families, families just like yours, are just 2 paychecks away from bankruptcy. Then throw in the whole world-being-turned-upside-down by the pandemic, and you have a recipe for disaster.
Maybe you have been affected indirectly by the pandemic watching your financial assets vaporize overnight.
How do you react to that? How do you overcome the most troubling, the most challenging of times?
When you feel crushed, unable to get out of bed in the morning, overwhelmed by feelings of sadness, even guilt. How do you regain, or at least start moving toward the happiness you felt before the whole pandemic took over our lives?
Together we will take the steps, implement the specific things you can start doing right now to get back to happiness, and balance. To take back your life, provide for you and your family, to be able to smile again.
And we'll fortify and equip you along the way to overcome the 'wolf at the door' the next time the need arises.
And, it will arise.
Let's get started!
"This Is Help For Troubled People In Troubled Times . . And Beyond."
---
Supercharge Your Visualizations to Gain Whatever You Want
If your visualization techniques have fallen short or if you've just not been able to make them work, this course can help.
Deeply held negative beliefs, skepticism and even anxiety can stop your intentions in their tracks.
Learn how to visualize consistently by first clearing away all of your self sabotaging inner dialogs.
Ramp Up Your Manifesting With The Law Of Allowance
Just like it is hard for you to sometimes say no, it can equally hard to allow yourself to say yes.
Yes to having a better life. Yes to getting that raise. Yes to removing yourself from that caustic relationship.
As you learn the principles and techniques of the Law of Allowance you will see your visualizations and Law of Attraction exercises bear abundant fruit.
One-on-One Video Coaching
Seeing your issue through a fresh set of eyes can lead to an opening of the floodgates and your answers pouring forth.
I am a Certified NLP; Advanced Law of Attraction, Sacred Freedom Technique, and Ho'oponopono practitioner. In one-on-one coaching we can design and perfect your practices for you to live your path to abundance.
And it can start as soon as this week.
Open enrollment of Workshops are subject to student count and availability. If you are interested in an upcoming workshop and want to inquire about dates, prices and class sizes, send an email to: admin@pathtoanabundantlife.com, and we will get back to you promptly.
50 WAYS TO REMAIN STANDING IN A WORLD TRYING TO MOW YOU OVER – 50 Positive Steps You Can Take Right Now When The Wolf Is At The Door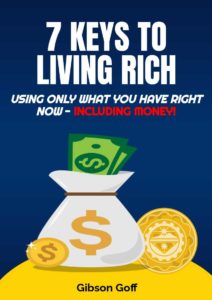 Subscribe to our newsletter and up to the moment insights and receive a

FREE

copy of my eBook, "7 Keys to Living Rich."